The Preparedness Network is a ground-breaking method of connectivity. This technology operates in a peer-to peer environment that can be accessed via dedicated or virtual connections. The plug-and-play structure of the Preparedness Network eliminates complex and expensive configurations.
Communications on this secure network are end-to-end encrypted using federally approved AES ciphers and are mutually authenticated using standards-based public-key cryptography.
Components
The Interoperability WorkStation (IWS) serves two primary functions: it is the point of communication between entities on the network for voice, text, and sharing of data files as well as the control point by which resources may be contributed to incidents. The IWS allows users to communicate in several distinct methods. "Intercom" allows communications between Interoperability WorkStations during an incident, "Transmit" broadcasts to radio and other resources participating in incidents, and IWS users can text message and share video feeds and data files with other incident participants.

Additionally, portable configurations of the IWS can be moved at any time to pre-determined destinations with qualified broadband access, providing users with back up dispatch capabilities.

The IWS is available in a rack mount, desktop, or ruggedized model.
The NIC is a proprietary edge device that enables ad hoc integration of communication devices including:

Radio Resources

R-NIC

The R-NIC integrates with radios at all frequency ranges (UHF, VHF, 800MHz, Marine, etc.) and broadcast protocols whether conventional or trunked, analog or digital. Additionally, the R-NIC interfaces with Nextel and other push-to-talk wireless networks.

Intercom and Public Address Systems

I-NIC

Connecting PA and intercom systems in schools and other places of massed assembly using the I-NIC allows first responders and other Network participants to broadcast and receive important messages.

Public Switched Telephone Network

T-NIC

The T-NIC allows telephone callers to participate in incidents on both an inbound and outbound basis.

Video Feeds

V-NIC

The V-NIC may be interfaced with a remote video camera allowing that feed to be shared among users.
Archival Node
InterLink's Archival Node is a 24/7 recording device that provides continuous capture for live view, and archival storage of all activities taking place on a corresponding IWS. The device records all audio (both incoming and outgoing), video, and text displayed on an IWS. Archival Node fully synchronizes all facets of the capture for DVR-style playback, making it ideal for incident review purposes.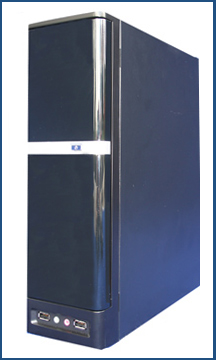 You can view any and all previous video and audio in near real-time. So, if you missed a segment of video or didn't hear a comment, you can easily replay that piece – even just a moment after it occurred. The device's on-demand replay allows for instant updates to first responders and other participants who may arrive late to the incident.
Time-stamped capture files can be stored, shared, or emailed to any other IWS or to any Windows-based PC and are fully compatible with Windows Media Player. In addition, the Archival Node uses standard video and audio formats so you can use any standard audio/video editing software with which you have experience to edit a copy, yet keep the original secure and intact. The unit also contains a Blu-ray disk for transfer to permanent storage.